Hashtags make your posts discoverable. They help people looking for the things you post find your profile.
Size of hashtags you use matters more than you think!
The broader the hashtag's search volume is, the more search engine results we will get (the higher number of posts under a particular hashtag). Those results will be baffling random, and by using those most general hashtags, you will attract accidental, arbitrary visitors who aren't exactly looking for what you have to offer. It's the tactic we should rather avoid!
The more specific the hashtag is, the lower number of search engine results we get. Who is scrolling throughout the content described with these more detailed hashtags? Mostly users who are genuinely interested in a particular domain.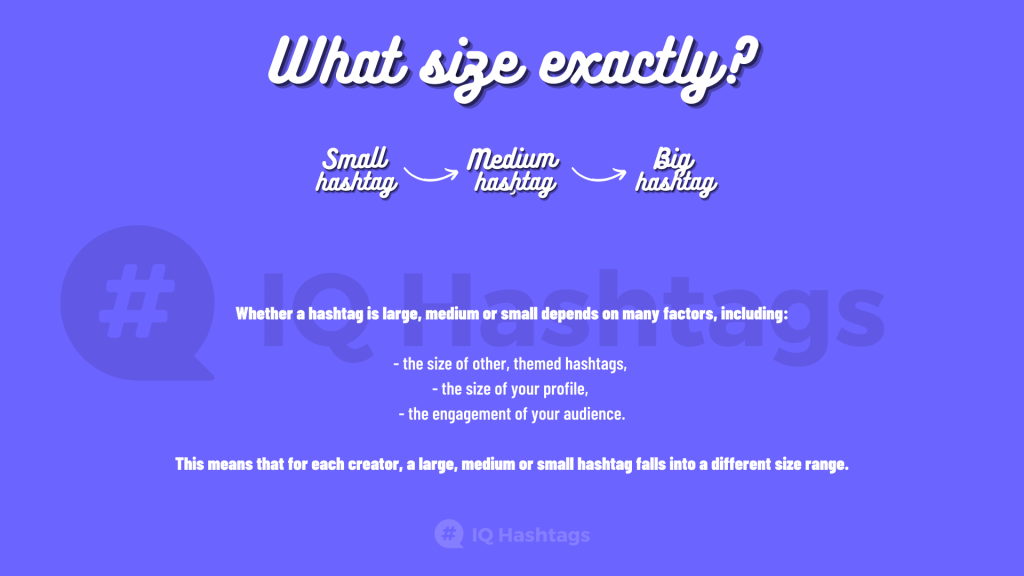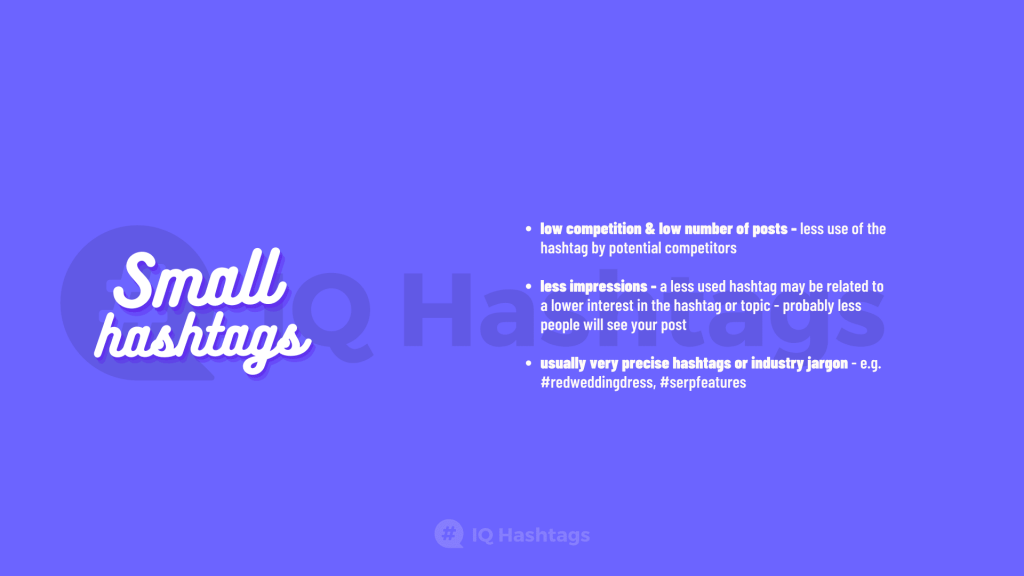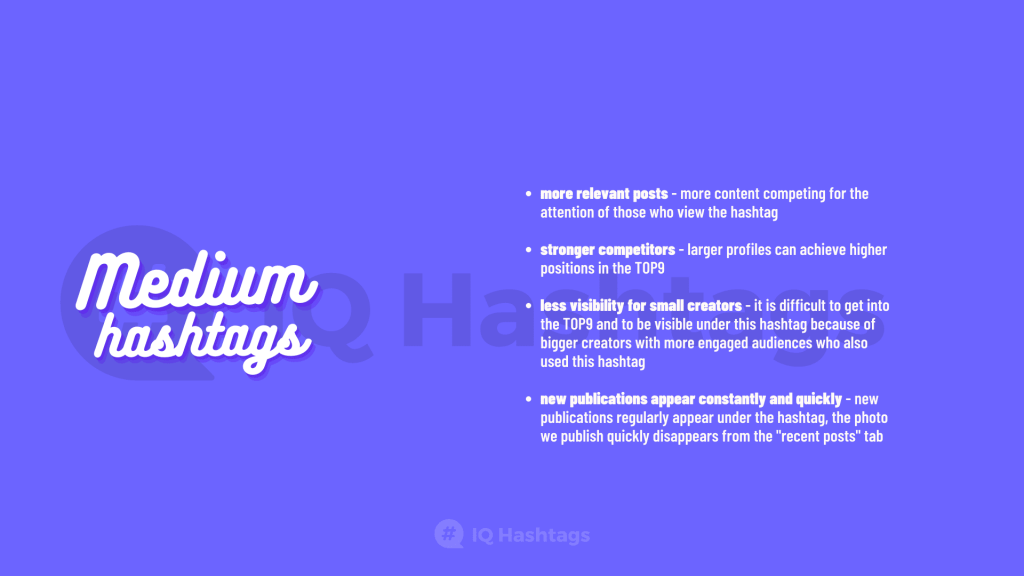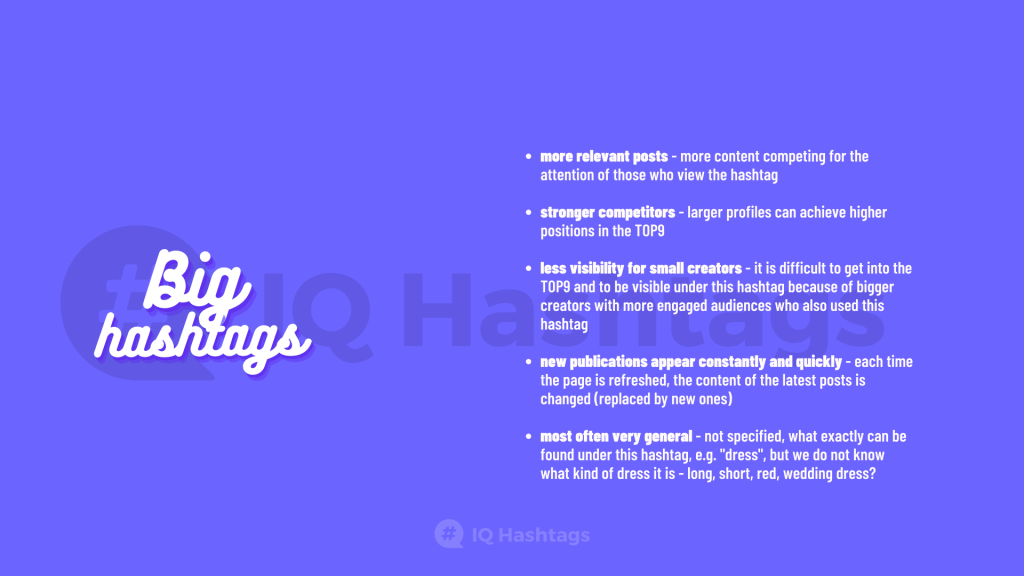 As the keywords (hashtags) they use are limited by the criteria, and they use more specific hashtags, the posts and photos they see are narrowed down to meet their specific requirements. And the competition there is much lower.
Can you see it now why popular hashtags aren't helpful and won't bring you meaningful traffic? They're too generic, and most valuable Instagram users won't use them, because users you should value the most, KNOW what they want to find.
If the hashtags you use are too broad in scope, they're being used by a considerable number of other content creators, your content can get lost in the ocean of thousands of posts, and it won't make it to the top.
Don't use hashtags that are too popular. They won't bring you the traffic you're hoping for. Stick to niche and good size hashtags.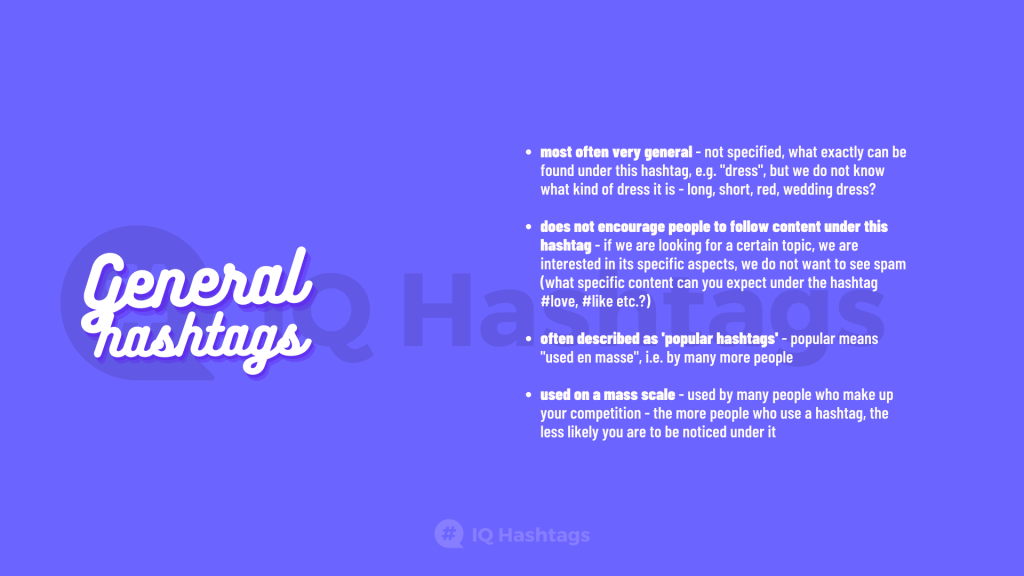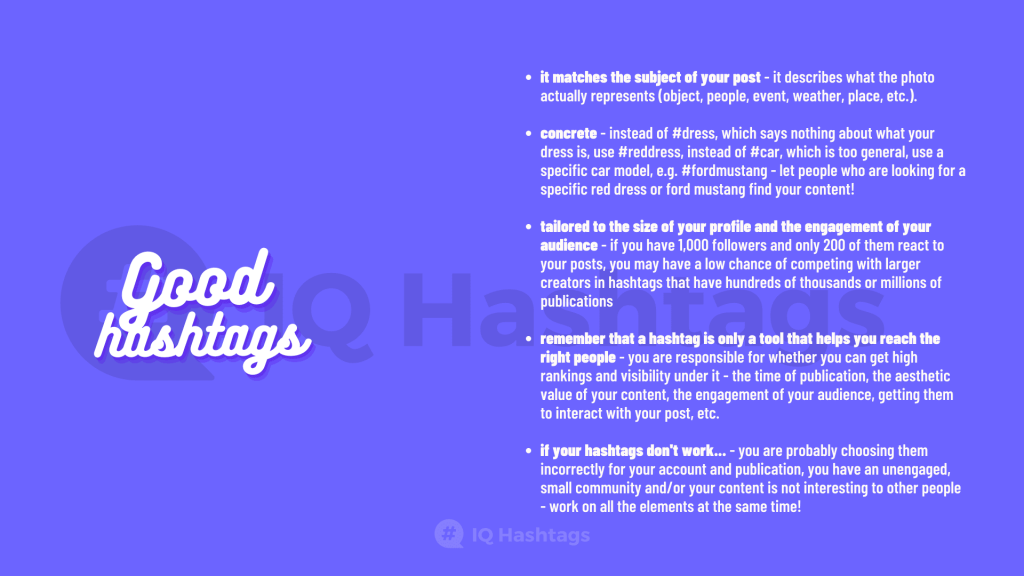 What you'll need? Some time to do the research and some patience as well!
It's a strategic idea to conduct in-depth research to find some effective, high-performing, relevant hashtags. Those will help you reach your target audience!
When you use extremely popular hashtags, your posts get lost in the sea of random content.
When you use hashtags with too low search volume, almost nobody new sees your posts and you aren't expanding your reach.
To fully understand why the search volume of hashtags is so important, you need to realize how you gain traffic. Often times to expand your reach, you need:
people who follow particular hashtags to view your posts
good position at TOP9 for particular hashtags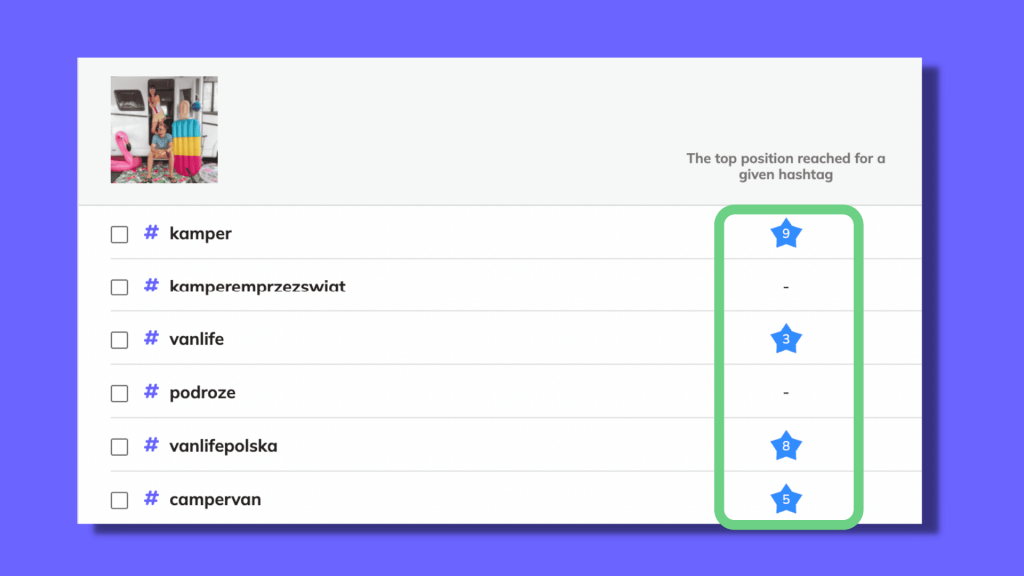 We can't directly control how man users follow hashtags from our niche – but the good news is we can control the visibility of our content. And that's enough.
When your post shows up in the TOP9 for particular hashtags, it's your key opportunity to get more eyes on your content. Which means potentially much higher engagement and overall more satisfying insights in your stats.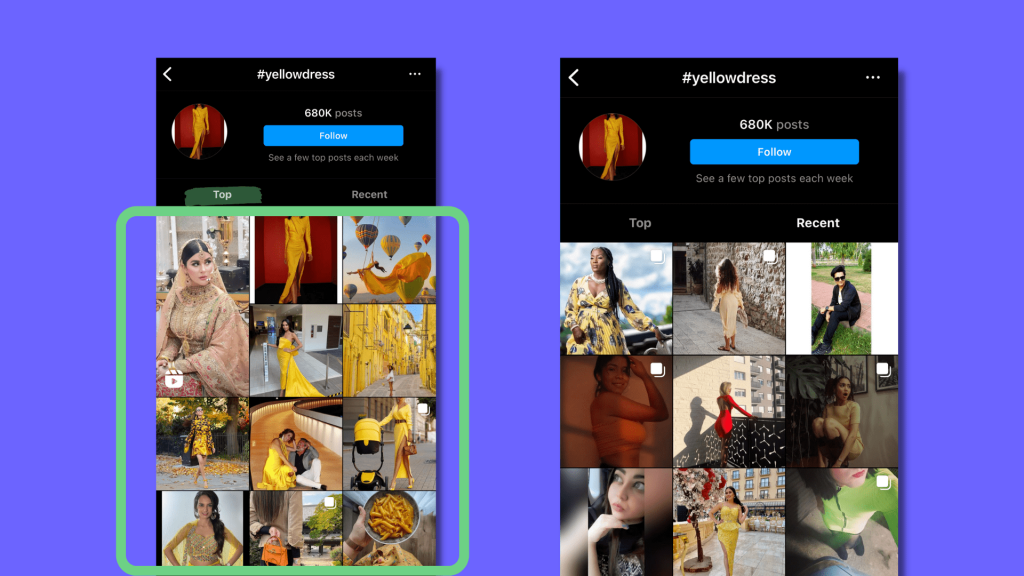 That's why getting there should become your priority!
So how do you get to the top 9 on Instagram?
It's a matter of:
how quick you get the engagement after your post is published
your engagement ratio to your likes and overall profile size
hashtags matching the content you post
the visual side of your post – the more aesthetically pleasing it is, the better
the speed of interactions
In our eyes, it is crucial to your Instagram marketing strategy to aim to appear in TOP9 for the hashtags you use, as it will help you grow your follower base and obtain higher engagement.
So how can you figure out which hashtags are the smartest choices to get you there?
Our tool will help you find the most relevant hashtags for your post.
Head over to "Search hashtags", and type in one hashtag that describes best what the photo/caption you want to post is about.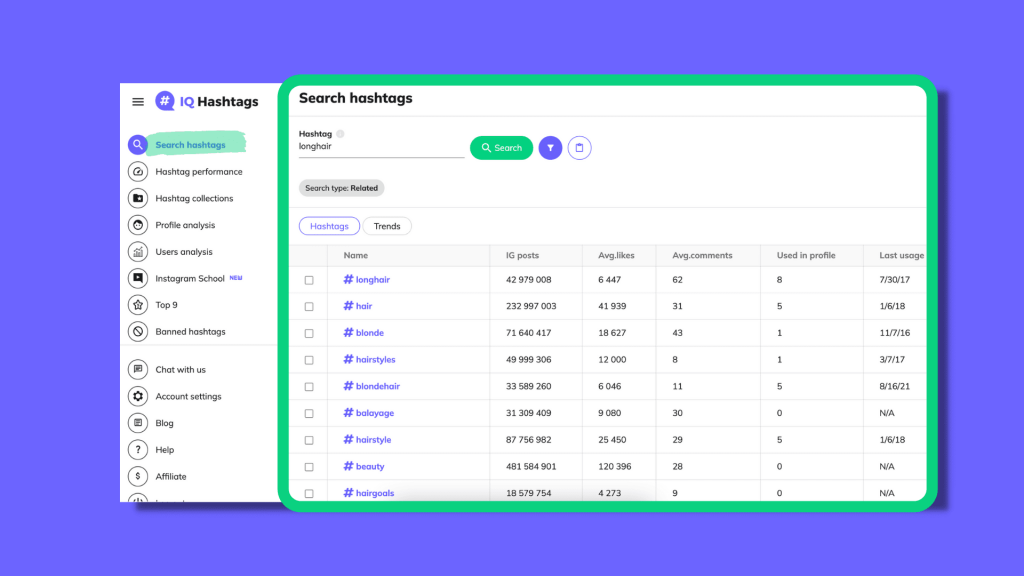 Then, determine the size of hashtags (search volume) that interests you, and set the maximum and the minimum size of hashtags you'd like to obtain.
How to determine the most optimal hashtags size (search volume) matching your profile's size?
Head over to "Hashtags performance" feature, and analyze the charts to find out which hashtags gave your posts the position in TOP9 most recently (pay attention to their sizes – this will tell you which one is optimal for your current level of growth)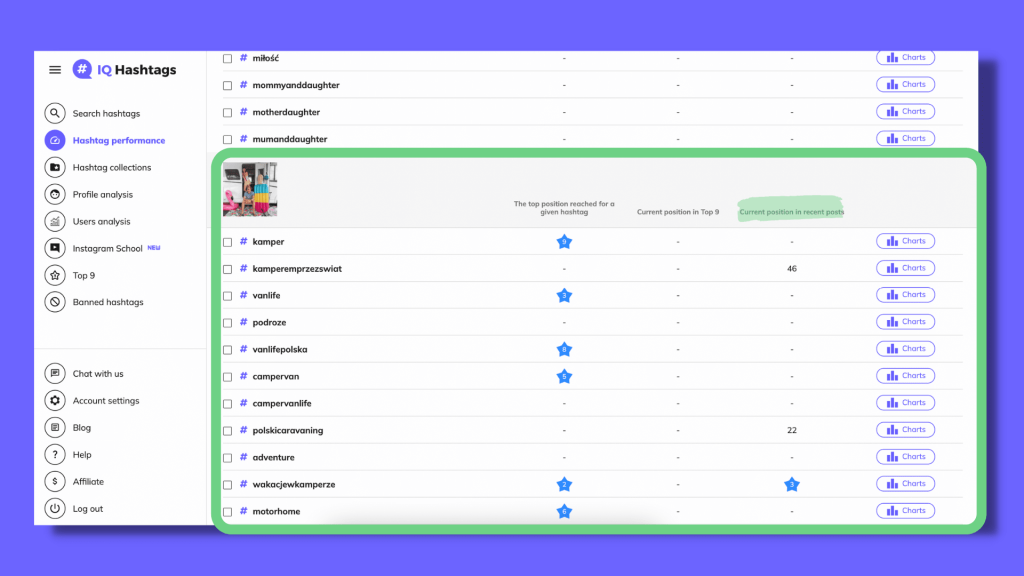 Use different sizes of hashtags (10 hashtags with low volume search, 10 medium-size, and 10 most general, with high volume search) to check out different methods of attracting new followers and expanding your reach, and also to test different solutions that may work out for your account
You can also skip this part, and research new hashtags without choosing any hashtag search volume – but we'd rather recommend doing it more consciously to test different sizes and observe which ones are the most effective for your profile's growth