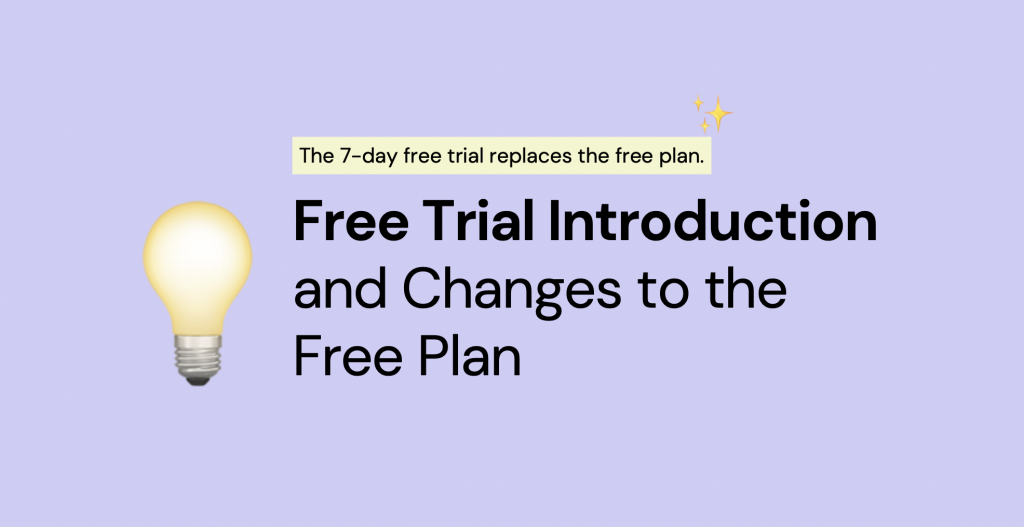 We've come a long way since launching our first version back in 2018, and in our continued effort to offer the most innovative features, we are making some big changes here at IQ Hashtags.
We're leaving behind our previous freemium model and adopting a new 7-day Free Trial option available for all plans.
Building IQ Hashtags has been an exciting journey, and along the way, we've collected many amazing, ambitious customers. We aim to make the transition to the new model as smooth and stress-free for you as possible.
Sometimes change is hard. But with all growth, change is inevitable! IQ Hashtags has evolved massively – we've upgraded our infrastructure and introduced features that have expanded the scope and utility of our tool (did we mention Reels Metrics that we've just introduced? ✨).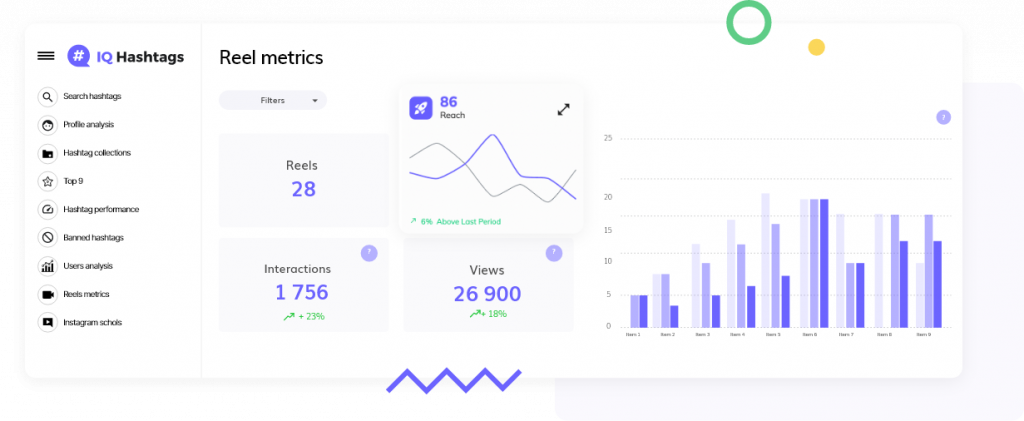 Additionally, IQ Hashtags is now officially approved by Instagram.
Instagram recognized us as a tool tapping into a powerful technology that can be used hand-in-hand with the platform.
It is a HUGE honor, and we are thrilled to offer you a deeper, more extensive integration with Instagram. Essentially, this approval confirms that our IQ Hashtags tool hits the highest industry standards regarding data analysis and keeping information safe. In addition, it was checked and authorized by rigorous independent Meta auditors.
We want to keep delivering a world-class Instagram analytics platform to our customers and to achieve this, we've made some updates to our model.
Here is a quick guide to what's changing!
💡What's Changing and How It Will Affect You
We used to offer a free plan for 4 years. However, the amount of users we served has significantly grown since! As a result, IQ Hashtags has evolved incredibly with exclusive analytics features, offering high values for our customers.
To ensure a quality service for everyone, and as server costs have increased multiple times over the years, it is simply no longer sustainable to provide the free plan.
The 7-day free trial replaces the free plan!
We're adopting a new 7-day Free Trial option for all plans. Our free trial lets you explore any paid plan — free for 7 days. You can subscribe to the 7-day trial of any IQ Hashtags plan and avail of all the features accordingly. During the trial period, you will have access to the features available on the selected plan.
How cool is that?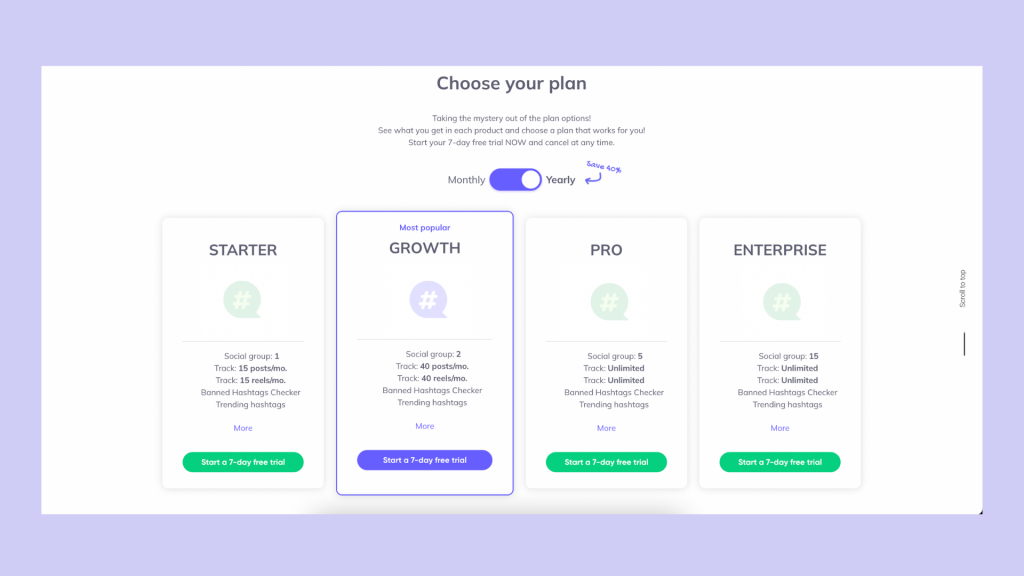 So from now on, when creating a new IQ Hashtags account, you can sign up for any of our paid plans. Afterward, depending on whichever plan you choose, you'll have 7 days to try out all of the features your particular plan offers.
It might be worth having a look at our plan comparison – it can help you decide the one best suited to your needs. Plus, you know you'll only pay for what you need.
While we are confident that you will love our advanced analytics features, we understand that many of our potential users want to try before they buy – that's completely understandable, and that's why we love trials, too!
"I don't like giving you my credit card number!"
You are not. All processing is done via either Stripe.com or Chargebee, which are trusted worldwide services for processing payment information.
Your credit card details actually never enter our system. We only get to know a fraction of your credit card information and use it only for informational purposes in your account.
You will need to enter your credit card details to begin a free trial, but don't worry – we won't charge you anything until the free trial period ends! We have promised you a 7-day free trial, so you're safe to explore IQ Hashtags without worrying about being charged.
✨ We require the provision of payment details because your trial is going to turn into a paid subscription automatically after the free trial ends. This is meant to make the experience as smooth as possible without re-entering your payment details at the end of the 7-day free trial.
After the 7-day free trial, your chosen plan price will be charged with your selected payment method. If you don't wish to continue, cancel before your trial ends, and you won't be charged. To end your trial early, you can head to your Billing area within your account (Settings > Subscription) and choose an option to cancel the trial.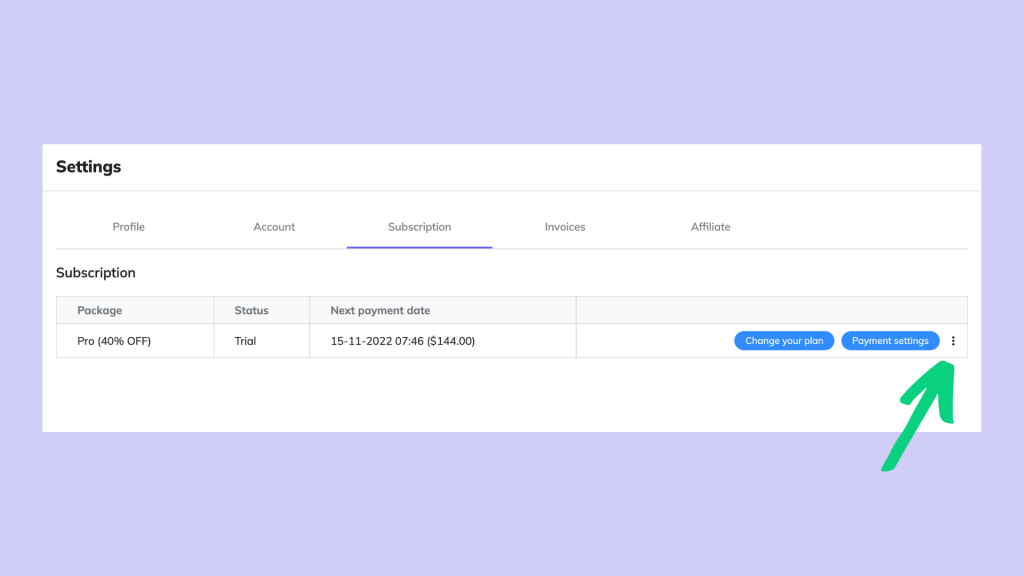 💡 If you don't cancel your free trial before it ends, you'll be charged using the billing information you provided when you signed up for it.
Can I change my plan mid-subscription?
Sure, you can upgrade or downgrade your plan anytime. Head to our Help Center to learn more about this simple process.
If you have any questions regarding this change, email us at: support@iqhashtags.com, and we'll get back to you as soon as possible.
Please tell us what you need help with, and we'll be eager to assist you to make the transition as easy as possible.